The 2022 Early On Conference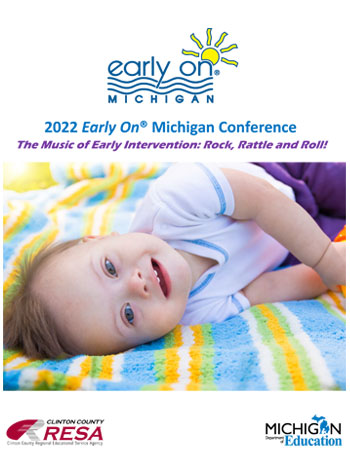 November 15-17, 2022
Grand Traverse Resort
Acme, MI
Conference registration is closed. We have reached our capacity! There are still openings available for our 1 Day Pre-Conference.
Early On Training and Technical Assistance is please to announce that registration is now full for the 2022 Early On Conference, The Music of Early Intervention: Rock, Rattle, and Roll!
We will be offering a full day pre-conference on Tuesday, November 15th. There are six in-depth sessions offering something of interest for everyone!
On Wednesday and Thursday, November 16-17, we will be offering a variety of sessions, both in-depth and overview, that will help meet the needs of providers, administrators, faculty, and families.
To register for the pre-conference and conference, you will need to be a subscriber to the CCRESA Office of Innovative Projects website. If you are not already a subscriber, click here to sign up. Already a subscriber? Then register!
Register early for best pricing!
Hope to see you there!
2022 Early On Pre-Conference Registration
Posted: November 13, 2022