The 2019 Early On Conference!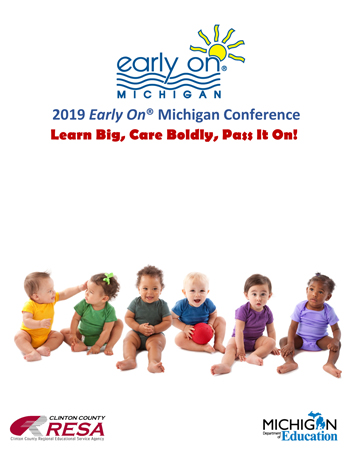 2019 Early On Conference
November 12-14, 2019
Grand Traverse Resort
Acme, MI
Early On Training and Technical Assistance is pleased to announce that registration is now open for the 2019 Early On Conference, Learn Big, Care Boldly, Pass It On!
Again, this year, we will be offering a full day pre-conference on Tuesday, November 12th. There are six in-depth sessions proving to offer something of interest for everyone!
Wednesday and Thursday, November 13-14, offers a variety of sessions, both in-depth and overview that will help meet the needs of providers, administrators, faculty, and parents.
To register for the pre-conference and conference you will need to be a subscriber to the CCRESA Office of Innovative Projects website.
If you are not already a subscriber click here to sign up. Already a subscriber? Then register!
Register early for best pricing!
Hope to see you there!
Posted: September 09, 2019