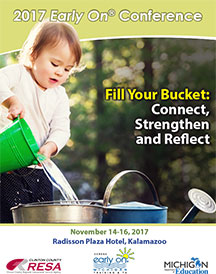 2017 Early On Conference
November 14-16, 2017
Radisson Plaza Hotel, Kalamazoo
Early On Training and Technical Assistance is pleased to announce that registration is now open for the 2017 Early On Conference, Fill Your Bucket: Connect, Strengthen and Reflect.
Again this year, we will be offering a full day pre-conference on Tuesday, November 14th. There are five in-depth sessions to choose from.
Wednesday and Thursday, November 15-16, offers a variety of sessions, both in-depth and overview, that will help meet the needs of providers, administrators, faculty, and parents.
To register for the pre-conference and conference you will need to be a subscriber to the EOT&TA website.
To subscribe please visit http://eotta.ccresa.org.
Register early for best pricing!
Pre-Conference:
Click here to register for the 2017 Early On Pre-Conference
Conference:
Click here to register for the 2017 Early On Conference
Brochure:
Click here to download the 2017 Early On Conference Brochure